It sounds like a challenge to improve productivity via a SharePoint Intranet, particularly during this new age of social distancing that has forced us to work remotely. Improving efficiency and promoting the retention of workers is essential to business growth for most enterprises and organizations around the world.
It is important to find new or effective methods to increase efficiency for a company/organization to be competitive in the long term, while also reducing stress and pressure on employees. Consequently, the best way to accomplish goals, be efficient and be a happy place to work where productivity levels and satisfaction are constantly on the rise is a modern workplace combined with a remote work strategy.
SharePoint is the most popular basic intranet technology in the world. This is consistently expressed in different studies of the digital workplace and the intranet. You can be sure, for this reason, that investing in a SharePoint Intranet means that efficiency will increase. The five ways the SharePoint intranet increases the effectiveness of your company are below.
Ecosystem from Office 365
SharePoint is an important part of the Office 365 suite and there are many inbuilt features and functionalities in this ecosystem. OneDrive, Microsoft Teams, Planner, Skype for business, Yammer, Delve, and many more are some of the great tools. It offers enormous opportunities within the intranet to optimize business processes (using Power Automate) and reporting (using Power BI). It also offers improved potential possibilities to incorporate into SharePoint Online with Microsoft automation and AI capabilities. You will create a better digital workplace experience through the strong relationship of the Office 365 suite of software with your intranet.
Targeting content and customization
Personalization features play a crucial role when it comes to the intranet. You can configure your digital workplace and leverage simple integration of Active Directory profiles by using SharePoint as an intranet. With a modern intranet, by division, place, functions, or seniority level, you can target the content into various classes. This implies that it is possible to bring different personalized content targeting the individual workers together. In addition, the SharePoint intranet enables users to subscribe to several topics of interest.
Excellent handling of documents
The compilation, storage, and dissemination of information and records depend on the majority of organizational performance. Some of SharePoint services' key features are comprehensive document and library capabilities that help organizations achieve state-of-the-art information management, collaboration, and more. To provide easy access to information, the SharePoint libraries can easily be incorporated into your intranet. Not only are the capabilities limited to recording the lifecycle, but it goes far further. You get all in one spot, from version history to check-in/check-out, to smooth integration with Microsoft Office Suite. Without getting into the hassles of email trails, you can conveniently edit and co-author your papers.
Highly scalable and robust
When it comes to the SharePoint platform's versatility and adaptability, the sky is the limit. With a variety of capabilities, including content management, teamwork, internal communication, employee engagement, business search, and more, you can easily create your unique digital workplace solution. The company targets never stay the same and neither do SharePoint's features. To offer a finely built intranet, Microsoft invests heavily in SharePoint's latest features and updates. You do not need to invest extra time, effort, and budget on creating your personalized intranet solution with the SharePoint intranet.
Social features and collaboration
SharePoint is no longer a rigid and static network that can only be used locally. With the evolution of Yammer, "Follow" features, Office 365 tools, SharePoint has become an immersive social framework with a multitude of collaboration and social features. It can be consciously used to involve workers and provide them with a more enjoyable experience with social dimensions attached to it. SharePoint Intranet does not act as a social networking tool, but it offers features such as personal profile, interests, specifics of the job function, team, etc. It helps you to search for individuals inside the company, to better understand the audience, and to enhance the communication channel. In addition, the crown of its flagship collaboration instrument has now been taken over by Microsoft Teams and has become the heart of the intranet experience.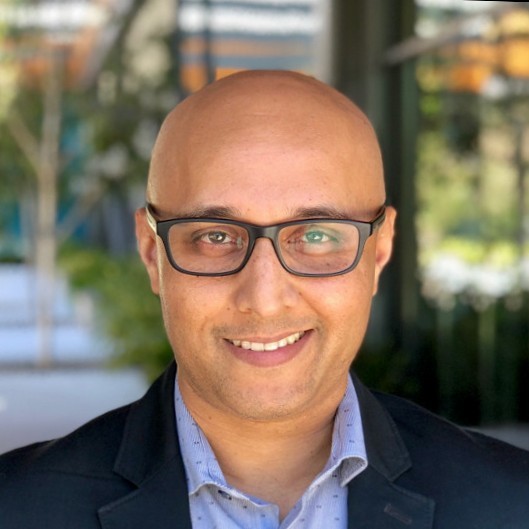 Manish works primarily with implementing cutting-edge technology for thought leaders who can envision moving their company into the future of business. These technologies include application of Artificial Intelligence, chatbots, Business Intelligence, and Data Analytics through Power BI. He is your ideal partner to guide you through a complex technology transition in your business.
President of International Association of Microsoft Channel Partners (IAMCP) SoCal
Strong focus on customer service with a history of A++ client satisfaction
Awarded the 2019 IAMCP SoCal Partner Choice Award
Awarded the ABAOC 2019 Presidential Award of the year